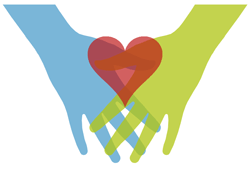 Webster defines the word "Partner" as "a person who takes part in some activity in common with another or others."  Businesses are often formed through partnerships. Two players in games like tennis or bridge can partner together as a team to play against two other partners.  When God established a Covenant with Abraham he created a partnership. Any fellowship of several individuals bonded together for a common purpose can be called a partnership. Church is a partnership. Marriage is a partnership.
The value of partnerships is being able to accomplish with other individuals that which cannot be accomplished alone. Our partnerships with the Baptist State Convention of North Carolina, the Cooperative Baptist Fellowship and the Raleigh Baptist Association enable us to be more effective in fulfilling the Great Commission than we could possibly be as a single church.
Currently we have entered into a partnership with Church World Services to provide Hygiene kits for victims of disasters such as floods, hurricanes and tornados. Our collection is in preparation for disasters that are sure to come.  We are just now entering into what we know as "hurricane season."
By participating in the Hygiene Kit ministry now we are enabling Church World Services to restock the shelves of its warehouse in preparation for the next disaster. Because of the generosity of partnership churches, Church World Services shipped 132,096 Hygiene Kits last year to Texas, Florida, Puerto Rico and Cuba to meet needs in shelters and affected communities.  We are delighted to be a partner this year.
We have set a goal for CVBC to provide 100 Hygiene Kits by Mother's Day which is next Sunday.  As of Sunday, May 6, we have collected 43 kits.  Instructions for these kits are available in the Church Narthex. They were also printed in last Sunday's bulletin and in today's newsletter.  If you have not yet prepared your kit, please prayerfully consider doing so by Sunday.  If you have already contributed, please consider making up one or two more kits so that we can reach our goal of 100. A single kit can be prepared for $10 or less. Your generosity is deeply appreciated.
David Mallory, representative of Church World Services for the Triangle Area, will be our guest speaker on Wednesday night, May 16, at 6:30pm. to share how our partnership with Church World Services is helping to meet critical needs where disasters occur.
In His Love, Charles