Our History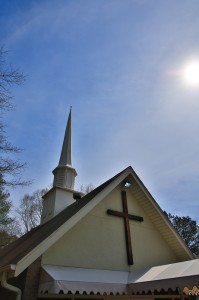 Crabtree Valley Baptist Church came into being when in 1970 the Raleigh Baptist Association and North Carolina Baptist Convention realized a need in the growing northwest section of Raleigh. Our first official service was held on Sunday morning, October 4th, meeting at York Elementary School.  The congregation would continue to meet there until moving into a sanctuary at our present location in November 1975.  As the church grew, multiple renovations and additions were made to the building to better accommodate our needs.
Our Present
Now, as our world continues to change, we at Crabtree continue to adapt and minister to the needs of our community by offering food through our food pantry, opening our arms to anyone who walks through our doors and providing ways for all ages to learn and grow in faith. To learn more about the ministries and missions of Crabtree, explore all the opportunities we offer by browsing our website.
Our Missions Statement and Vision is found here.
Celebrate our Heritage
Recently, the church held an anniversary service, celebrating 40 years since the groundbreaking with charter member Roy Smith returning to preach.  Living charter members and other former members were invited to join the celebration.  After the service, Roy Smith and others shared more stories about those early days of the church.  Here is a photographic look at the church's history.